"You guys have a way of making friends."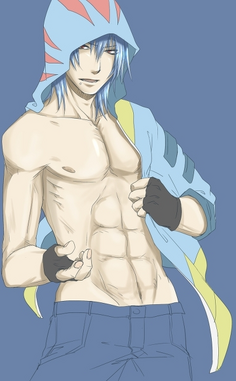 - Full Name: Irving ???
- Age: 22
- Gender: Male
- Faction: Party
- Weapon: Abs

Appearance:Edit
A surfer dude with longish blue hair and feraligatr themed jacket. Lack of shirt isn't canon... yet.
Personality:Edit
Seems fairly quiet and level-headed, though that could just be the situation. One of the only people not to panic and jump out of the boat when Flynn and Max were trying to catch Tentacruel.
Mostly unknown, claims to have been a pro surfer before arriving on the island.
Abilities:Edit
Unknown: Unknown, but Water Ace would not be shocking.

Sidera (Staryu): His friend and probably surfing partner.

RelationshipsEdit
Ad blocker interference detected!
Wikia is a free-to-use site that makes money from advertising. We have a modified experience for viewers using ad blockers

Wikia is not accessible if you've made further modifications. Remove the custom ad blocker rule(s) and the page will load as expected.